Handpicked brain fuel from Sicily
Welcome to Orange Almonds, we're glad you found us.
Orange Almonds are produced in Sicily. Our small family farm allows for a production of up to 80kg of Almonds per season.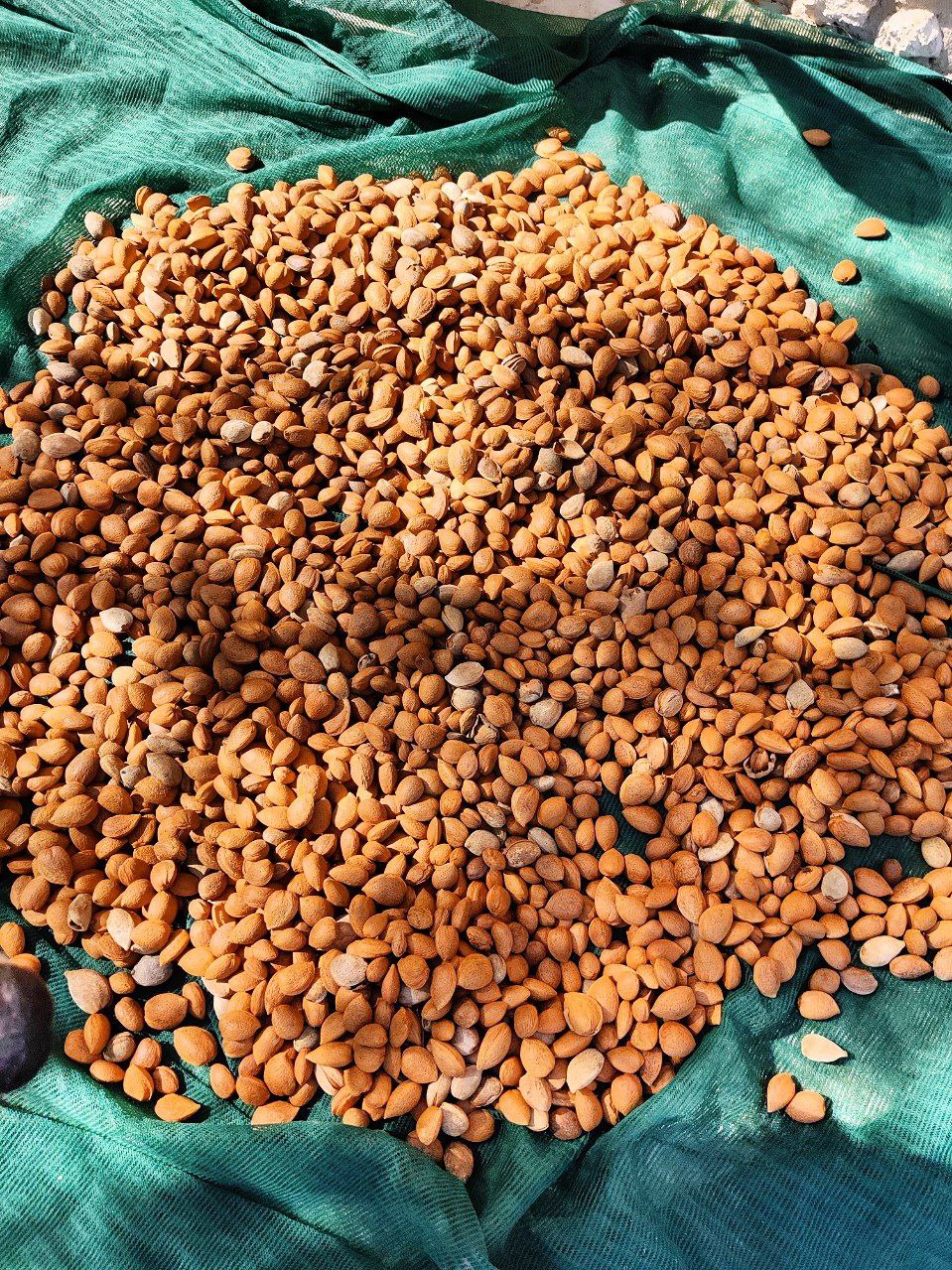 After the harvest, we sell most of our Almonds to a larger company and only keep the leftovers (which we pick by hand) for our own use.
That means, the majority of our almonds are sold for an absurdly low price here in Sicily. However, they will then be sold to another company which will sell it to another company until they finally arrive in some shelf, perhaps in another country.
Our goal is to sell our almonds directly to people like you, allowing our customers to get high-quality almonds at the best price.
To make this happen we started the Orange Almonds brand. Let's trade almonds peer-to-peer, revitalize rural regions and promote bitcoin usage in Sicily and beyond.
Premium quality, directly from producers
The Almonds we grow are called Mandorla Pizzuta d'Avola. A well tasting and resilient Almond breed which is considered to have the best flavor and "mouth-feeling" in the world. It makes sense, they grow in Sicily, which is the best place in the world.
The scientific name is Prunus amygdalus. According to Harvard research, Almonds can help reduce the risk of heart attack! Link
If you're a Bitcoiner, the most important reason to consider investing in Almonds is the fact that they're a source of Monounsaturated fats. These healthy fats are linked to well functioning cognitive performance especially at older age:
Healthy fats including mono- and polyunsaturated fats have been shown to improve cognition and brain health due to the need for fatty acids for neurotransmitter production and myelin sheath insulation.
Orange Almonds are a tasty and nutritious snack, appreciated worldwide by bitcoiners, michelin chefs, athletes, busy professionals, university students and travellers on long journeys.
Like nuts? Order your annual supply for just 21 EUR per Kilo
If you like our Orange Almonds, consider securing your batch of the season. Get your annual supply now – at an unbeatable price of 21 EUR. This means supporting a family run production and cutting off all middlemen. Own highest quality Almonds fresh from the farm delivered directly at your door.
We have just 15kg left, so be fast. Minimum order quantity is 2KG. Almonds can be picked up in Sicily or shipped internationally (shipping fees apply).
Contact us now via: info@parlarebitcoin.com
Handpicked and Stonecrushed
The large portion of almonds gets harvested with the help of heavy machinery. Once the machine harvesting is done, there are still plenty of leftovers. The remaining almonds have to be picked up from the ground and from the trees. This is very relaxing work which we enjoy.
And as a result we have about 20kg of handpicked Almonds. We then crush these Almonds by hand with the help of a stone. This is also very relaxing work which we enjoy. As a result we will have about 10-15kg of Almonds ready to eat. Yummy!
What's better than Almonds? Orange Almonds.
With our Orange Almonds you made a choice not just to enjoy a pure and natural product but also to directly trade with independent producers, peer-to-peer.
These almonds have grown for a full year until harvest season in August. Under the relentless Sicilian sun in the beautiful region of Caltanissetta they become enriched with naturally occuring nutriens:
Vitamin E
Monounsaturated fats
Biotin
Minerals: Calcium, Phosphorus, Magnesium
Trace minerals: Copper
Phytonutrients, specifically flavonoids, plant sterols, phenolic acids
Almonds can reduce heart disease risk and provide L-carnitine and riboflavin which helps in the growth of brain cells. And yes, every single almond in this bag has been carefully picked by hand and crushed with ancient methods i.e. a stone.
But are they organic? Orange Almonds are as natural as it can get. All our trees grow as god intended with soil, rain and sun – nothing else.
However, 'don't trust, verify' – we invite you to come see for yourself and join the harvest season in August, we always appreciate helping hands.
Thank you for choosing Orange Almonds, we hope you enjoy the taste and nutrition.

Almond Nerd? Almond Wiki!
The
almond
(
Prunus amygdalus
,
syn.
Prunus dulcis
) is a species of small tree from the genus
Prunus
, cultivated worldwide for its
seed
, a culinary
nut
. Along with the
peach
, it is classified in the subgenus
Amygdalus
, distinguished from the other subgenera by corrugations on the shell (
endocarp
) surrounding the seed.
The fruit of the almond is a drupe, consisting of an outer hull and a hard shell with the seed, which is not a true nut. Shelling almonds refers to removing the shell to reveal the seed. Almonds are sold shelled or unshelled. Blanched almonds are shelled almonds that have been treated with hot water to soften the seedcoat, which is then removed to reveal the white embryo. Once almonds are cleaned and processed, they can be stored over time. Almonds are used in many cuisines, often featuring prominently in desserts, such as marzipan.
The almond tree prospers in a moderate Mediterranean climate with cool winter weather. Native to Iran and surrounding countries including the Levant, today it is rarely found wild in its original setting. Almonds were one of the earliest domesticated fruit trees, due to the ability to produce quality offspring entirely from seed, without using suckers and cuttings. Evidence of domesticated almonds in the Early Bronze Age has been found in the archeological sites of the Middle East, and subsequently across the Mediterranean region and similar arid climates with cool winters.
How many Almonds should you eat? Do not overeat Almonds! If you eat too many Almonds you could get sick. We suggest a dose of 3-4 almonds per day as a natural supplement to support your normal immune function and metabolism.